Population: 46,000,000
Currency: Euro (EUR)
University Students: 1,500,000
International Students: 75,000
English-taught Programs: 200
Spain has long been a very popular destination for international students to pursue higher education, including undergraduate degrees, Masters and even PhD. The country is in the south of Europe and thus enjoys a fantastic climate with an average of 300 days of sunshine per year.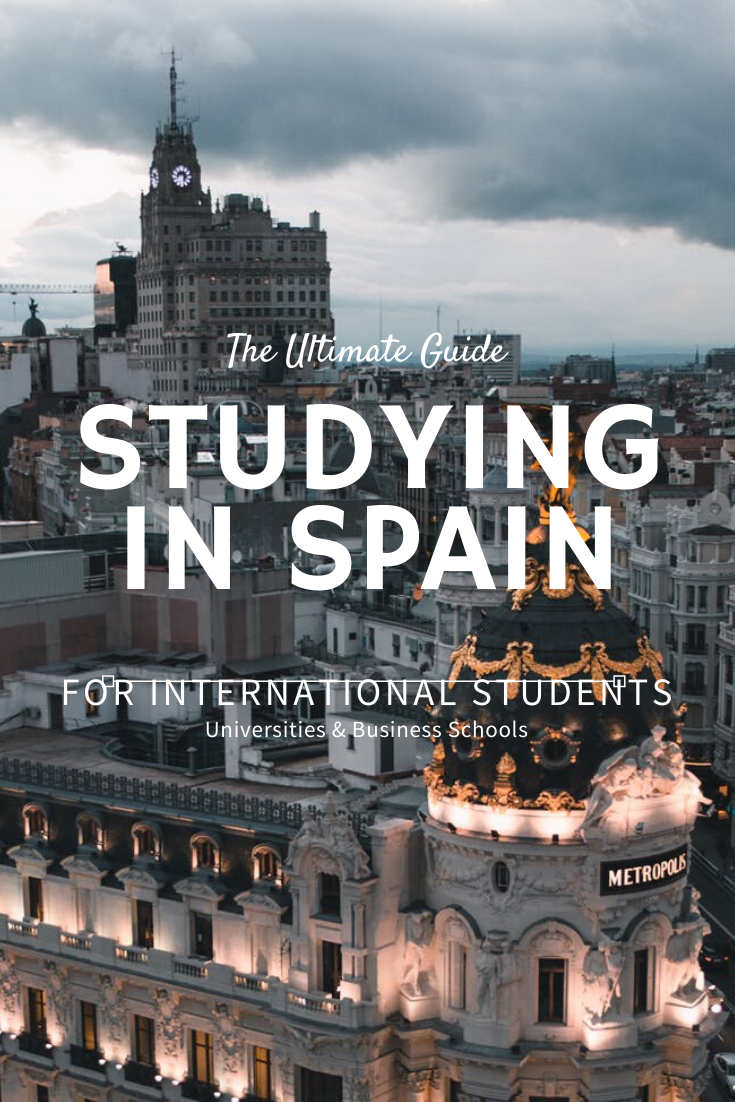 Students who choose Spain as their study abroad destination also value the rich culture, architecture and of course the rich Spanish food. Interesting to note is, Spain is proud host to over 40 UNESCO World Heritage Sites. The main destinations in Spain for foreign students are Madrid, Barcelona and Alicante, but there are also options in smaller cities such as Sevilla, Granada, San Sebastian, Malaga among many others.
In 2016/2017 around 1.6 million students where in higher education in Spain, of which around 50,000 were international students. Most international students come from Latin/South America (59.6%), followed by students from the European Union (19.2%), Asia/Oceania (11.7%), non-European (3.7%), North America (3%) and Africa (2.8%). More recent figures suggest that around 75,000 international students are currently studying at Universities and Business Schools in Spain.
Universities in Spain
There is a diverse variety of Universities in Spain, currently totalling just over 80 institutions, of which most are public and state-funded (50), some private (32). Do note that some are run by the Catholic church. The oldest University in Spain is the Universidad de Salamanca, which was founded in the year 1218. Other public Universities in Spain include:
Universidad Complutense de Madrid
Universidad Autónoma de Madrid
Universidad de Barcelona
Camilo José Cela University
Carlos III University of Madrid
Business Schools in Spain
You will also have a great selection of public and private business schools to choose from, including:
IESE Business School
United International Business Schools
EAE Business School
Schellhammer Business School
IE Business School
INSA Business, Marketing & Communication School
EU Business School
ESADE Business School
Barcelona Technology School
Geneva Business School
If you are serious about finding the right place for your studies, check out our guide to all business school in Spain.
Study in Spain in English
Most programs at Universities and Business Schools in Spain are taught in Spanish and in Barcelona, for example, you may also find that teachers speak the regional language Catalan. Depending on your level of Spanish you may wish to explore international student reviews on such institutions to gauge how you may find this.
For those that the Spanish language may be an obstacle, there is a growing trend of internationalization in the Spanish higher education system that is seeing Universities and Business Schools across the board starting to offer programs in English. See here for an official list of Spanish Universities that teach Bachelor degrees in full or in part in English and here for those that offer Master degrees in full or in part in English.
A word of advice: You may want to consider looking at the faculty that makes up the teaching body of the program you are interested in as a Spanish native professor speaking English is not the same as a native English-speaking one.
American Universities in Spain
There are a few American Universities and Colleges operating a campus in Spain that all teach in English. These include Schiller International University, The College for International Studies, Suffolk University and St. Louis University, all based in Madrid.
British Universities in Spain
Currently there are no British Universities in Spain but several institutions with British Accreditation or an affiliation for double degrees or validation of degrees with Universities from the UK.
English-speaking Universities in Spain
For those used to the British education system, for example, they will be glad to know that there is also a very well-established offering of private English-speaking universities in Spain as well as other higher education institutions that offer programs taught entirely in English.
Many of these education institutions employ highly experienced native British or American professors as well as a mixed faculty of professors with global professional experience. Such institutions include Schellhammer Business School, the first English-speaking business school in southern Spain, or EU Business School in Barcelona, a pioneering institution with campuses across Europe.
Other higher education institutions in Spain that teach in English, include Hospitality Schools such as Les Roches Marbella or those that offer Technology related courses like the Barcelona Technology School. There are also schools such as IED in Barcelona or the Design Academy in Monda; both specialized Fashion Schools.
Tuition Fees in Spain
Tuition fees at public Universities in Spain are determined by the local government, these can range from around 700 EUR to 3,000 EUR per academic year, for a Bachelor degree and 1,000 EUR to 4,000 EUR for a Master program.
Private Universities and Business Schools can cost anywhere from 4,000 EUR to 60,000 EUR per academic year. Some of these offer flexible payment plans and or scholarships and grants.
Scholarships to Study in Spain
There is a diverse variety of scholarships, grants and funds to assist in covering the cost of studying in Spain. The Spanish government lists scholarships available from the Ministry of Education. Certain private Universities and Business Schools also offer merit-based scholarships that may cover a certain portion of tuition fees.
Costs of Living in Spain
One of the main attractions to study in Spain is also the low costs of living, especially when compared to northern European study destinations.
The cost of accommodation and food is also relatively attractive, as well as shopping with countless stores that offer fashionable clothing at attractive prices. A typical lunch menu with drink can cost anywhere between 6 and 12 EUR and a loaf of bread is usually around 50 cents.
If you are planning on studying in Barcelona or Madrid, be prepared to pay a bit more for accommodation than if you choose a city like Malaga or Alicante.
A room in a shared apartment in Barcelona or Madrid, could cost anywhere between 200-600 EUR per month. Other options for accommodation in Spain, include staying with a host family, renting a studio or small apartment.
It is safe to assume that around 1,000 EUR per month should be enough to cover your living costs as a student in Spain.
Internships & Company Placements in Spain
If you are looking for internships in Spain, or so-called company placements, you will be glad to find that these are not only popular but widely available throughout the country. From small and medium-sized companies to large global multinationals, the opportunities to intern in a company in Spain are manifold.
There are both unpaid and paid internships, so do your research before committing to a placement. Some Universities and Business Schools may also include internships as part of their program, contributing to the academic credits obtained.
Working in Spain
EU citizens as well as international students are legally allowed to work part-time while studying in Spain. Depending on the city or town where you plan to study, this may be easier or harder. Very Spanish cities will require you to speak at least Spanish, whereas in Barcelona, many jobs may require you to speak Catalan.
Having said that however, there are hundreds of thousands of foreigners, including British expats that call Spain their home, so there are also job opportunities for those that only speak English, for example. In big cities such as Barcelona or Madrid there are also hundreds of job opportunities for other native Europeans, especially with jobs in call centres.
By law the minimum wage per hour in Spain is set at 7,04 Euros per hour or 900 Euros per month. With a maximum of 40 hours per week and usually 8 hours per day. Remember, as a student though you are limited to working 20 hours per day.
Applying for a Student Visa to Study in Spain
Non-EU students require a student visa to study in Spain (Switzerland, Norway and Lichtenstein are exempt from this legal requirement). In order to apply for a student visa, you will need to visit the Spanish Embassy or Consulate in your home country.
In order to apply for a student visa, you will need to be admitted by an educational institution in Spain, have proof of funds to cover your stay, valid health insurance and demonstrate your commitment to studying in Spain without a hidden attempt of illegal stay upon completion of your studies. Some countries may also require a certificate of good conduct.
For students that do not have accommodation secured for the duration of stay, the Embassy will require proof of funds to cover 100% of the monthly IPREM (IPREM / PIIME: Public Income Indicator of Multiple Effects). The most recent IPREM / PIIME figures are 537.84 Euros per month or 6,454.03 Euros per year.